We are fans of safety and love Windows Hello, but not all Windows PCs support its use. Luckily, if you have a desktop computer that doesn't have a fingerprint reader, we've rounded up a few options that can be used to unlock Windows Hello support. These handy little devices add a layer of security to your PC, allowing for more convenient access.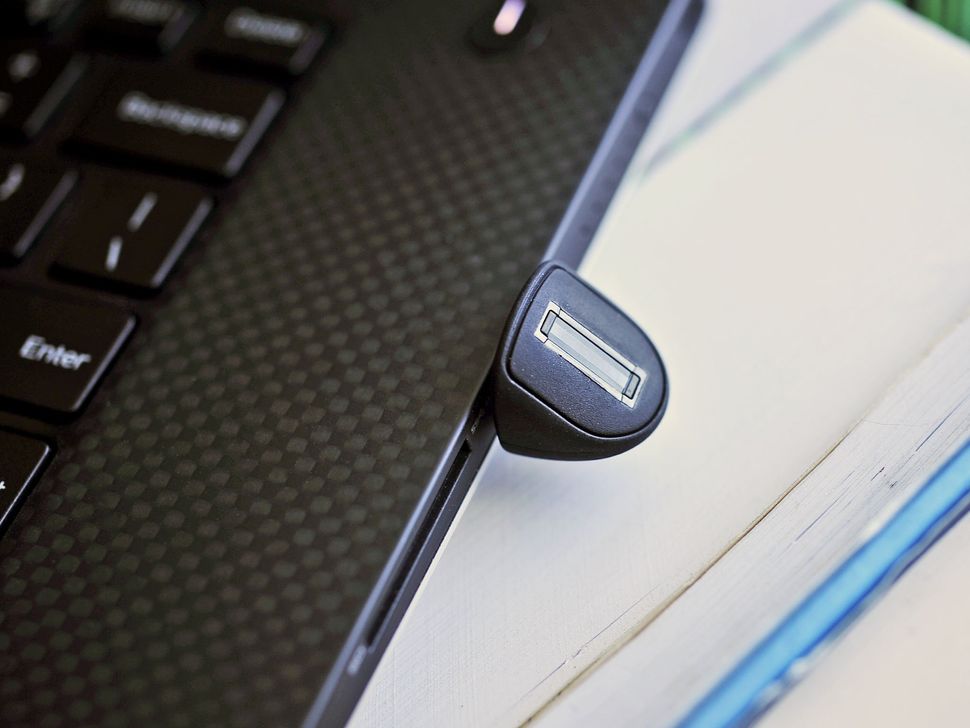 Eikon's Mini is not only affordable, but the fingerprint reader works well. It's one of the smallest fingerprint readers out there, which means portability and the ability to leave the dongle plugged into your laptop. You'll be able to improve the security of your PCs at home and at work with nothing more than a fingertip. When logging in, Windows 10 will ask for the fingerprint, which will then unlock the PC.
USB 2.0 is used so you can insert and use the Eikon Mini on older PCs, as well as new machines with USB 3.0 and later. The only problem with the Mini is that you need decent access to a USB port (preferably one on the front panel) on the computer case. Still, for laptops and other portable machines powered by Windows 10, you'll be fine.
The best part is that you won't have to install anything to make this fingerprint scanner work – just plug it in and security is a fingerprint away. It's worth noting that the Eikon Mini is a "swipe" scanner, so you'll need to swipe your finger across the reader, instead of resting your finger on most smartphones that use fingerprint authentication.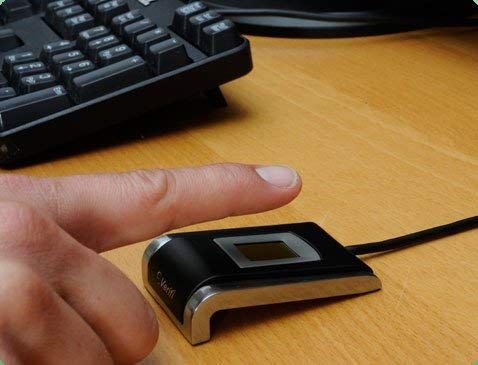 Verifi's P5100 is an expensive fingerprint scanner for Windows 10, providing one-finger access to all your apps, games, and files. Forget typing your password with this handy USB device that doesn't even require installing additional drivers. Just plug in and scan. Unlike the Eikon Mini, this scanner is connected to your PC via a cable, which makes more sense for the office.
This scanner is made of metal, so it has a premium construction. It's also compact in size and contains a copy of the Roboform password manager, just in case you always use the same password for all your online accounts. The Verifi P5100 does not require you to swipe your finger, but place it on the sensor for the checks to be performed. It's expensive, but it's fast and reliable.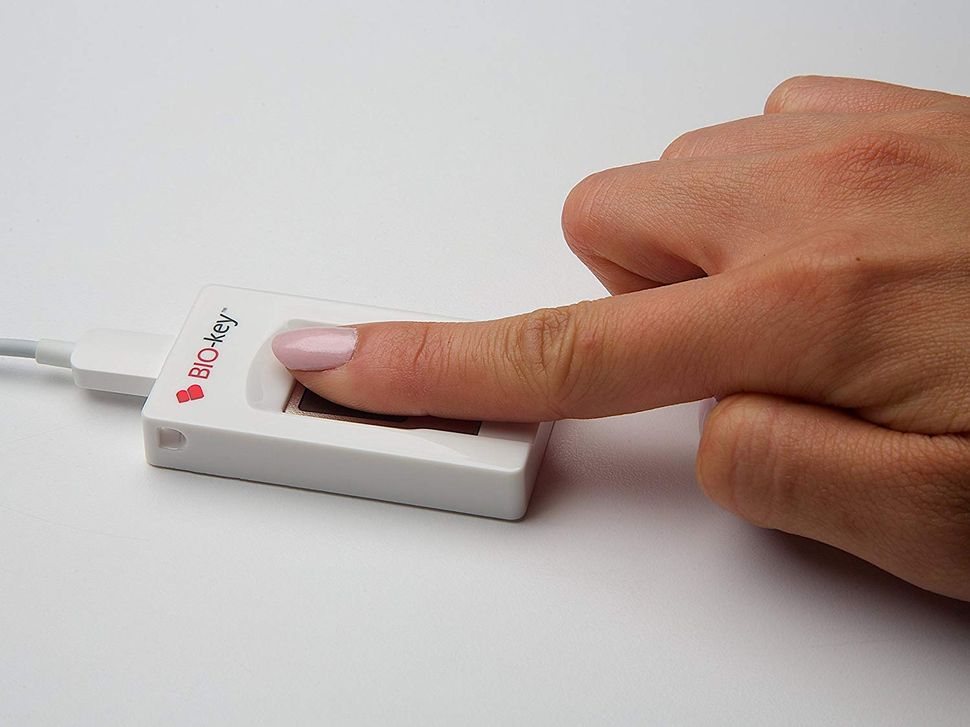 BIO-Key's EcoID is a compact fingerprint reader, just like the other options included in this collection. It offers Windows Hello support for logging in without entering your password, comes with a free copy of the OmniPass password manager, as well as support for Bio-Key's enterprise software.
The included hub lets you connect the scanner to your desktop computer not just by cable, but by physically adhering it to the hardware to keep it out of the way, ensuring it's convenient enough for quick access. It's perfect for desktop use and you don't have to swipe a finger for your prints to be recognized.
Just be sure to skip some unrecognized fingerprint scans, which require you to press the reader a second time to access Windows.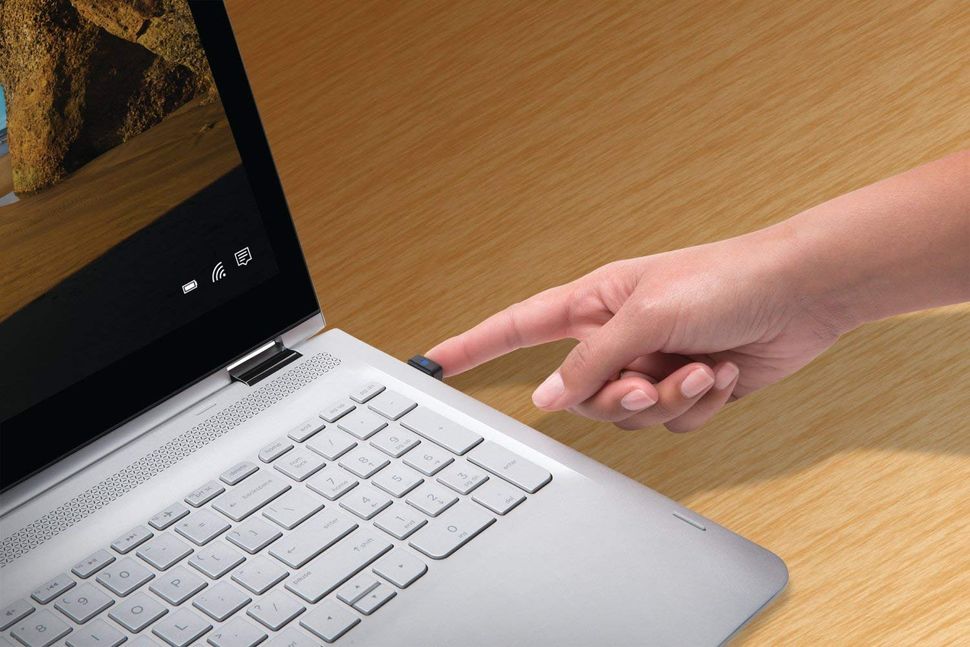 When you need a fingerprint reader for your laptop, look no further than the Kensington VeriMark. Allowing you to store up to 10 different fingerprints, this little device will allow you to log into Windows 10 and other software without entering a password – just use your own fingerprints. The VeriMark is super compact, becoming almost invisible when connected to a laptop. Many of the options here are portable, but this one might be the most important.
Models for single or multiple PC use are available, depending on your application. Not only is it inexpensive, but it can even be easily attached to a standard keychain for convenient portability. You'll never lose your keys, and now you'll never lose your fingerprint reader.
The owners of the Kensington VeriMark have shared concerns about the apparent lack of support for some websites using FIDO U2F.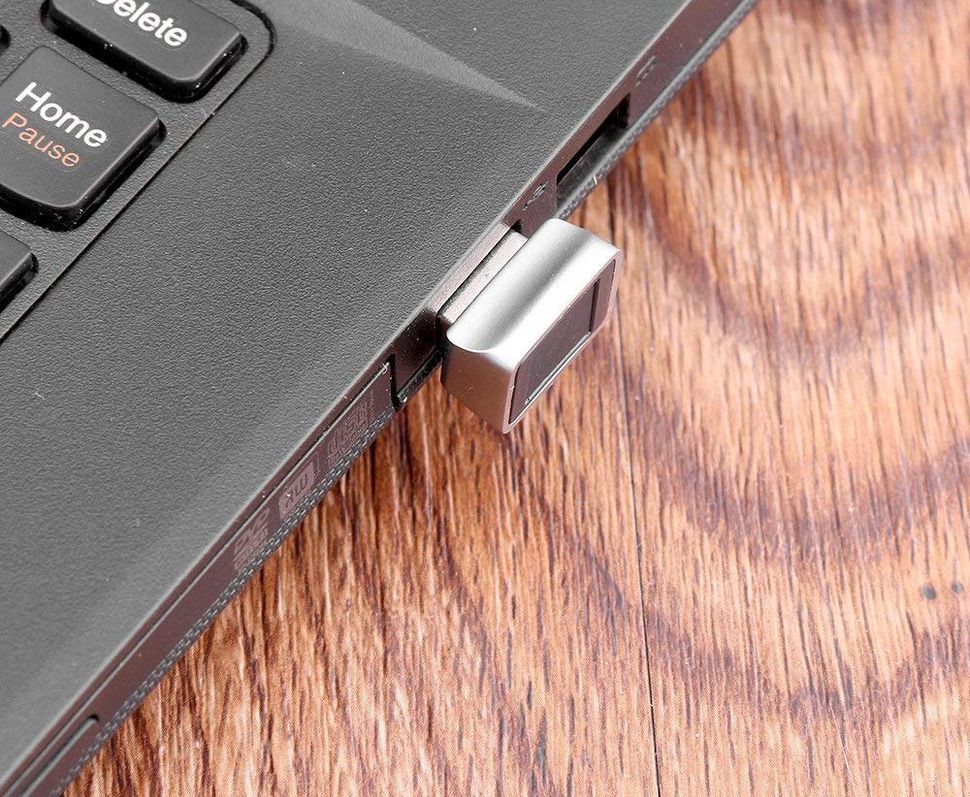 This cost-effective fingerprint reader from DDSKY lets you add Windows Hello functionality to your PC for less. You get all the functionality required for fingerprint recognition here, and it's all housed in a compact USB dongle, which is great for laptops but might not be ideal for your desktop setup.
Don't expect it to perform as well as more expensive options. The reader just isn't as responsive as more expensive readers – think a budget smartphone with a fingerprint reader versus a flagship device – and you'll sometimes have to scan your finger multiple times, but for the price, it's a great way to make your PC more secure.
At the end of the line
Despite so many great and varied options, the Eikon Mini is our number one choice. It will not only work well on your desktop, but also on a laptop. This fingerprint reader is also affordable and works well with Windows Hello. Not every best windows laptops having a fingerprint reader is where this collection comes in.
Whichever you choose, you will be able to use Windows Hello on your PC. Other picks from our collection will also work well with Windows 10, depending on which product you prefer to look like. If you want to save money, DDSKY offers you its more affordable portable fingerprint scanner.