From losing cryptocurrency due to security breaches to forgetting seed phrases, old forms of security have led to widespread theft and loss in the blockchain space. Not to mention the $97 million diverted from major cryptocurrency exchanges by cyberattacks in the final months of 2021.
In retaliation for the security issue within the blockchain, digital security companies have turned to this virtual space. Among these, Avarta's 2017-founded venture has risen to the top, offering a comprehensive cryptographic authentication layer that seeks to address these security issues.
In this article, we will review Avarta, the current blockchain authentication and identification market leader, examining its history, key features, and competitors to demonstrate how it improves blockchain security.
What is Avarta?
Avarta acts as the solution to authentication and identification challenges that commonly plague blockchain applications. As cryptocurrency and blockchain programs grow, they regularly use centralized customer identification programs. Avarta changes its biometric solution, allowing users to use their face as their own private key.
By providing the blockchain industry and crypto companies with high-level authentication services and proof of identity, Avarta helps users by giving them access to their crypto wallets without passwords, seed phrases or other more archaic forms of account access.
Avarta combines military-grade authentication assurance with state-of-the-art facial recognition to create a fully secure wallet for users, protecting the blockchain and crypto communities from digital theft.
A user can even use Avarta as a storage location for their entire translation history, giving borrowers, investors, or lenders peace of mind when interacting with unfamiliar users. Plus, with user-friendly options that enable information sharing or private interactions, the power is entirely in the hands of the user.
Above all, Avarta's mission is to create a secure, user-controlled, and completely private authentication layer designed specifically for blockchain services.
Avarta History
Avarta emerged in 2017, seeking to combine both active biometrics, like facial recognition, and passive biometrics, like device fingerprints, to provide a multi-layered authentication system.
Since then, Avarta has enjoyed incredible success, backed by Prince Abdul Qawi of Brunei, invested by top investors like Magnus and Maven Capital, and building strong partnerships with large-scale companies like Cheqd and SupraOracles. His investment spells have raised millions of dollars in funding so far.
Averta has already obtained patents in the United States and Southeast Asia, offering an international blockchain authentication solution.
Main features of Avarta
Avarta offers a range of key features that give this other product utility beyond authentication. By using Avarta, a user will gain access to a range of benefits, each of their features being created to enhance the applicability of this token, despite the blockchain industry they are connected to.
The main features of Avarta that we will talk about are:
Optimized collateralization
Avarta's Digital Self
Avarta Trust (credit score)
Multi-Chain Crypto Wallet
Let's break them down further.
Optimized collateralization
The collateralization process is optimized thanks to Avarta. This feature has never been more critical, especially since users can hide their borrower's credit history, identity, and other asset portfolios from the lender.
Avarta's collateralization includes four main aspects:
Increased intelligence gathering is brought by Avarta's networks
User wallets are continuously monitored for financial health
A valid "cash position" is generated based on other available assets
The user's borrowing history is expanded and verified
This simplified form of collateralization adds additional authenticity and security to the platform.
The digital self "Avarta"
Using the Avarta platform, users can create their own "Avarta" in their wallet addresses. In addition, they can customize the amount of information revealed by this digital identity and change the amount of information communicated to relying parties.
By creating a full Avarta identity, users can gain priority access to regulated platforms that require whitelisting, increasing the number of users who create these profiles.
Avarta Trust Score (Credit)
As an authentication platform, trust is a central metric that Avarta monitors. Avarta can calculate and publish a trust score for a user based on the basics of decentralized identity management across multiple chains. This is determined by the total score of wallets aggregated across multiple chains.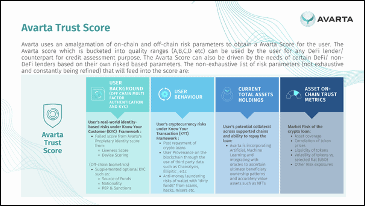 By using this Avarta trust score, users are further identified and differentiated, allowing:
Receive all our news via Telegram and Twitter.
Trust scores required for whitelisting
Differentiated DeFi products based on user risk profile
Improved collateralization
This incredible feature further increases the layer of cryptographic authentication that Avarta can offer its blockchain partners.
Multi-Chain Crypto Wallet
By combining a unique blend of sophisticated machine learning tools that capture mobile device behavior with a proprietary blend of biometric authentication, Avarta delivers the highest level of security possible. A user will be able to link all their wallets in one convenient place, using Avarta as an all-in-one security authentication system.
The days of pins, security tokens and passwords are over. With their passing, the days of you losing them and losing your user wallet are over.
Additional Features
Avarta also offers a range of additional features that further demonstrate their level of cybersecurity and biometric effectiveness:
● An anti-bot mechanism for public DEX listings
● Multi-signature wallet for business and legacy planning
● Multi-chain and decentralized identity management with a risk-based scoring mechanism
These features set Avarta apart from its competitors by providing a complete blockchain biosecurity system.
How does Avarta generate profits?
There are two revenue streams at the forefront of Avarta's business model. These revenue streams are mainly covered by:
Transaction Fees – On DeFi exchanges and service providers, transaction fees will generate an ongoing revenue stream.
Third-party integration and license fees –
Avarta will also use its own native token to encourage usage.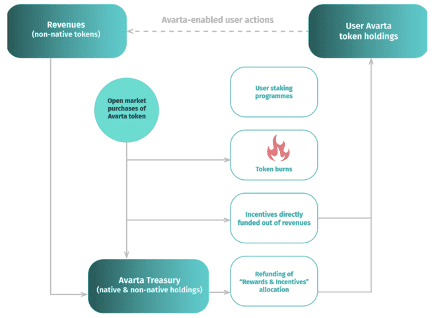 Native token features
The native token used on Avarta has a range of utilities. Each can be categorized into three groups: governance-focused, service-focused, and rewards-focused. To start enjoying these features, the first step is to create a profile within the Avarta ecosystem. This, while not a direct use of the native token, will allow the user to access many other use cases for the token.
Governance-focused public services are methods of formally recognizing the participation of the community and user base of Avarta. These pathways allow users to impact product development in the future, contributing their opinions and feedback to help shape the development pathway.
Service-oriented utilities aim to tie Avarta's products and services to the native token demand. There is a limited supply of fundamentals specifically designed for the token, and this is becoming a financially redeemable scarcity. As the demand for Avarta's products increases, the tier value will also increase.
Rewards-based utilities aim to leverage the value created by utilities. Whether encouraging early adoption or acting as an instrument for other contributions, the quality and applicability of Avarta's services and products will increase.
Due to revenue sharing via APY returns, burns to ensure stability, and referral bonuses, the native token is leveraged more.
Competitor analysis at a glance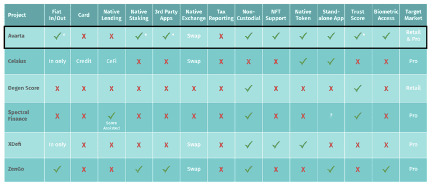 Avarta is a solution specifically designed for DeFi applications, eliminating cryptocurrency loss due to security breaches, forgetting seed phrases, and losing cryptographic keys. Additionally, by providing a 360-degree multi-layered security solution that balances biometrics and data mining from user devices, it presents itself as the ultimate blockchain security solution.
With Avarta, users will be able to build credit history, increasing the efficiency of the Defi space for traders and investors. Additionally, as a unique identity-based security system, Avarta gives full control to the user, allowing them to share information or remain anonymous at their discretion.
While other companies like Zengo, XDefi, Spectral Finance and many more offer blockchain security solutions, none are as complex, efficient and multi-layered as Avarta.
Final Thoughts
If you are looking for the all-in-one cryptographic authentication layer, Avarta will integrate seamlessly into your blockchain project, providing decentralized transparency that enhances the cybersecurity of this digital space.
With trusted rating, identity-based security, and advanced levels of user control, Avarta provides the perfect solution for those looking for authentication systems within the blockchain and cryptocurrency communities.